News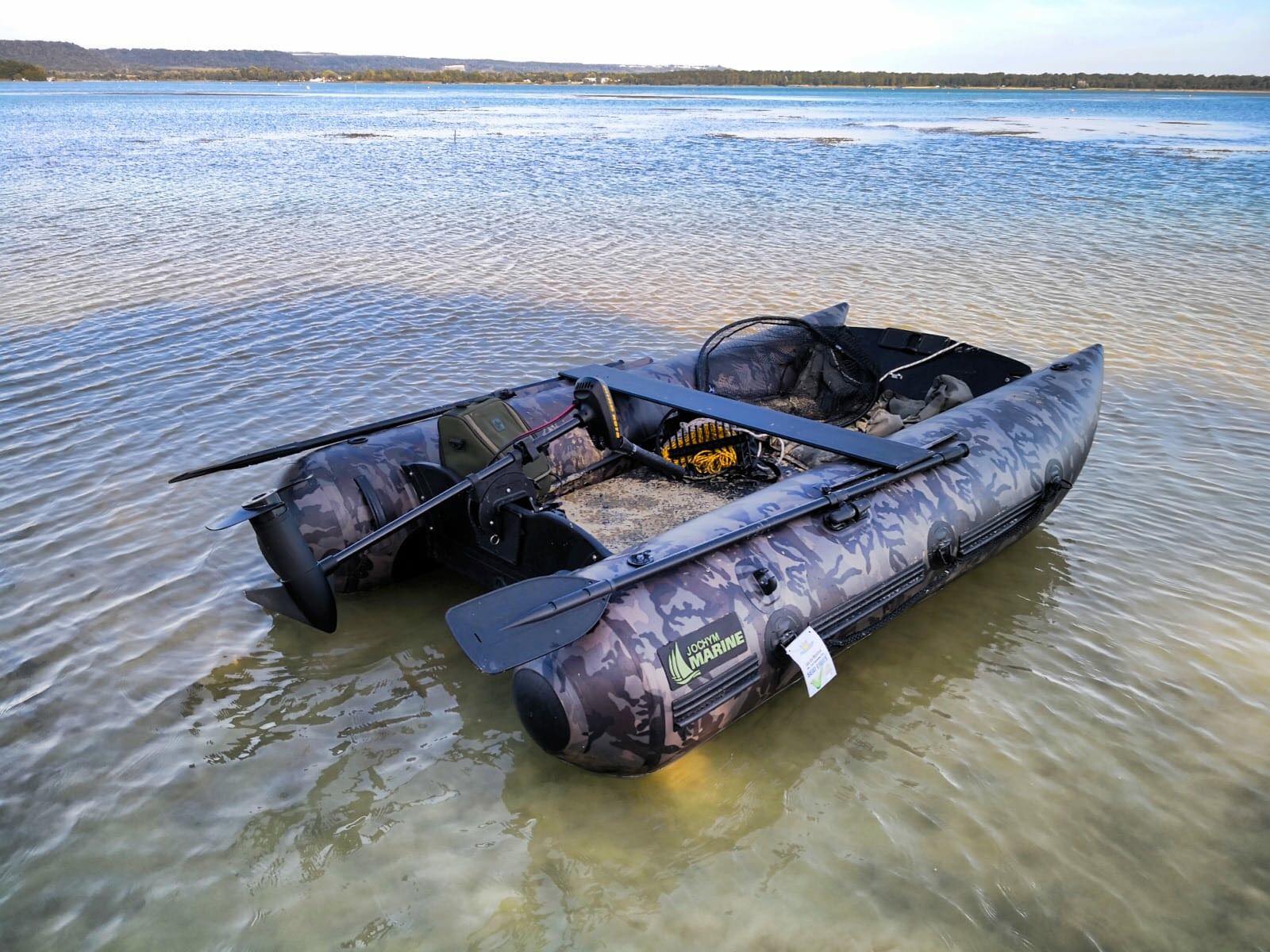 Jochym Marine boats are developed together with professional anglers to provide everything what angler need during fishing. As a company we care very deeply for our customers needs that's why we always pay attention on both quality of our product but also best services for our customers.
After years of development we are producing catamaran boats especially made for fishing. Catamaran construction offers huge number of benefits including largest inside space of all inflatable boats on market, uncomparable stability in all weather conditions, very low electricity consumption and much higher top speed.
1. Inside space: More gear & More Comfort
Catamaran boats offers largest inside space of all inflatable boats thanks to their open front instead of classic closed V-Shape of dinghies. With front wing of catamarans whole area in the front of the boat is open and fishermen can load much more gear inside his boat when he need to move to his spot. Besides loading options another benefit is comfort which very large inside space offer to boat owner. During fishing, angler have always enough space for gear he needs but still can sit comfortable and have enough space for movement in boat. Inside space of Jochym Marine catamarans are uncomparable to any other dinghy boat thanks to construction of catamarans.
2. Uncomparable stability: Pure focus on fishing
Construction of catamaran consist of two tubes and middle section above water. Bottom of the boat is flat instead of V-Shape created by keel on classic boats. Flat bottom allows angler to walk freely on whole area of floor while boat remains sitting on the water surface without any change. This advantages offers to angler first time option to focus just to playing his fish, feeding or any other job he needs to do without distraction created by constant need to pay attention on boat movement on classic V-Shaped dinghies. With flat catamaran bottom you can stay in the front or back of the boat without even feeling it. Because catamaran boats don't need keel tube for maneuverability, both tubes of catamarans work as two keels.
3. Flawless Maneuverability:
Tubes of catamaran boats work as two separated keels. This allows perfect maneuverability and immediate response to change of direction from motor. Because of this catamaran boats don't need middle keel tube. When angler want to change direction to place his hook correctly in position boat react immediately when he steer the motor. Even in bad weather conditions is very easy to place hook in the exact place you want and increase your chance to land fish. Also during placing your rods when you need to keep your line straight you can stay on your boat and steer easily with one hand and be sure that your line remain straight without any bend.
4. Low electricity/Fuel consumption:
Catamaran boats are build to stay on the surface of the water above the water level. Instead of pushing the water in front of the boat as classic boats, catamarans are going on the water. This means that boat have much lower drag and ride very smooth. Because of less drag motor don't need to much power to push the boat and consumption of electricity or fuel is lowered by more than 30% in comparison to classic boats. It means that you don't need to many batteries or fuel for your fishing. Tested during World Carp Classic team used 3 batteries instead of 7 they used with classic inflatable boats.
5. Bigger Tubes: Higher top speed
All Jochym Marine boats are using bigger tubes diameter. Bigger tubes create much more buoyancy for the boat and in combination with catamaran construction which is riding on the water surface boats are very fast. Even with electric motors you can reach your destination very fast and save your time when you need to play fish, when you need to reposition your rods. Top speed of catamaran boats are 30% higher in comparison with classic boats.
6. Extra PVC protection
All parts of boats are covered with extra layer of PVC to protect them after years of usage. Back and front transom holders, oar holders, oar stoppers everything is protected by second layer of PVC. Because all these parts are under lot of pressure we decided to protect them to avoid any damage even after many years.
7. Bottom & Side rubber protection
After years of experience with inflatable boats we found exact parts of tubes which normally use to be damaged from rocks, pulling boat from the water and so on. To prevent this damage we covered bottom of our tubes with thick layer of PVC to prevent any damage but just as wide as tube need to be protected and not to increase total weight of the boat because too wide bottom rubber can easily highly increase total weight of the boat which affects many other parameters of the boat. But not only bottom, also both sides of our boats are protected with thick layer of pvc to protect them from damage from the sides.
8. Safety in all weather conditions
We deeply care about safety of our customers because we know that fishing in bad weather conditions can be dangerous. Catamarans offers a higher standard of safety even in strong wind and high waves. In big waves catamaran boats thanks to their tubes construction is going automatically up on the wave instead of hitting the wave. Our boats are jumping on the top of the waves and thanks to air tunnel in the middle of the boat all wind is going in between the tubes and it prevent the boat from flipping which might be very dangerous in strong wind. Thanks to air tunnel strong with cannot lift the boat because is pushed from front wing under the boat. Catamarans are master on the waves on we are very happy that our customer are much safer even in bad weather conditions.
9. Materials & Accessories
Our boats are made from high quality material up to 1,0mm thickness which make them highly resistant against any puncture. In combination with very strong and high quality accessories and both bottom and side protection with thick layer of extra pvc strips all our boats are highly protected from damage.
10. Wooden parts protection
After 20 years of working with boats we found out that wooden parts of inflatable boats use to be damaged over years by humidity, water, mud, grass and their combination which very easily damage the wood and this was main damage on most boats we have been servicing over last 20 years. For this reason we decided to protect all wooden parts with another layer of protection to avoid this damage over years.
11. High Level movable seat
All Jochym Marine boats are delivered with special high level movable bench seat developed by Jochym Marine. Because of higher tubes and position of the seat on the top of the tubes, you can sit much more comfortable and avoid pain in the knees after long sitting in the boat.
12. Extra D-Rings
On the sides of the boats you can find 6 D-rings which offers and option to add boat fenders for extra protection. When you are fishing narrow rivers or places where your boat can be damage you can very easily attach boat fenders or use D-rIngs as additional anchoring place.
13. Developed with anglers for anglers
Our boats have been developed especially for fishing to offer everything what angler need to maximize success during fishing. We choose very special construction of catamaran boats because they match the best needs of angler. Our big team of professional anglers are testing our boats in harders weather conditions during whole year on big lakes, on big waves, even during the winter fishing.
14. Warranty and services
Because we care about our customers we offers high standard of warranty and after warranty services for all our customers. 5 years warranty on seams and material, free delivery from and to customer in case of problem and even more. Read more details in section Warranty on our website. We want all our customers satisfied with their product and that's why both our product and also services have to be perfect to each customer.